Four...........They are four,
Joined together by the same passion of the saxophone.
Jean-Yves FOURMEAU, Pierric LEMAN, Stéphane LAPORTE, Joël BATTEAU
Are Masters in the art of this instrument to the unsuspected possibilities.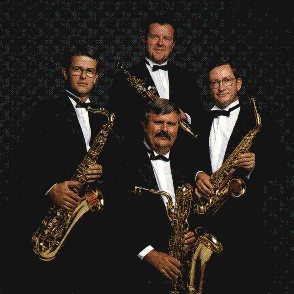 Japan, the United-States, Canada, Europe ....
All countries where them prestige led,
Remained as bewitched
The first measurement, until the last.
And audience, upright with each one of their concerts,
Conquered, under the charm of their music,
To be filled with enthusiasm by their imagination and their brilliance,
Their professionalism and their humour.
Traditional, blues, ragtime, cinema, contemporary, traditional
Their allured repertory.
Eclectics and unexpected,
They astonish, delight, amuse, tenderise.
Joined together since 1979,
These the first four prices of the higher national academy of PARIS
Shared their indisputable talent,
In order to constitute a formation of chamber music,
Recognised like one of best on the international level.
I wish with each one among you to pass one evening unforgettable,
And I am certain that you will appreciate these privileged moments,
Where it would be liked that time stops so that the music lasts
Philippe Fouvet